Put yourself in these shoes:
It is now legal for a person with a concealed handgun licenseto carry a firearm in an establishment which has a "D" permit as long as they are not consuming alcohol or under the influence of alcohol or narcotics.
You own an establishment that serves alcohol be it a bar/restaurant/nightclub.
You get to choose which group will spend their money at your establishment.
Choose wisely, for while one group will bring you profits, the other may try to rob you.
This is what you know about each groups and applies to every person in the group:
Group number one:
- legal US citizens
- has voluntarily submitted to and passed a background check
- no warrants for their arrest
- never been convicted of, or plead guilty to a misdemeanor offense of violence, charge of domestic violence or any similar offense
- has never been found mentally incompetent or defective
- never been committed to a mental institution
- does not have a temporary or permanent protection order filed against them
- never been convicted of or plead guilty to drug possession, use, or sale
Group number two:
- has the same amount of people in it as group one.
If you put this sign on your door you are automatically saying you prefer group two because most people from group one will pass your business by.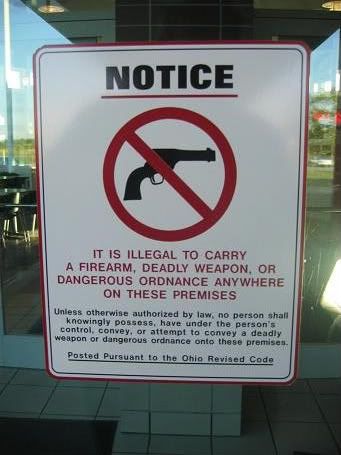 If you own any establishment please do not post because, "No Firearms" signs actually create a more dangerous environment, most armed consumers encourage their friends and families to avoid businesses that prohibit the lawful carry of defensive firearms on their premises for their safety. Businesses that post "No Firearms" signs get entered into the
Do Not Patronize While Armed Database
to inform all Ohioans. Studies show that banning legal firearms actually increases the risk of violent crime. Many criminals already intent on committing robbery and assault will target places with "No Firearms" signs because they know no one will be able to stop them. Such a sign only prohibits law-abiding citizens, from being equipped to defend themselves.
Be careful out there - even when you think you are safe, you might not be... Piece be with you!